There is a nice quip attributed to George Bernard Shaw. When a young man in his orbit arrived to visit him on a bicycle, somewhat puffed and declaring that he had "just saved two minutes", GBS replied:
"Very good, and what do you propose to do with those two minutes you have saved?"
Superficially speaking, the Tories simply could not allow the loss of Johnson's old seat of Uxbridge and South Ruislip. Realising that a Labour victory was possible, they entered into an irresponsible 'culture war' around expansion of the Capital's 'Ultra Low Emission Zone' (ULEZ) in a popularist onslaught aimed at gaining sufficient votes to keep the seat. It worked, and in doing so, introduced a 'wedge issue'. It is, however, likely this 'wedge' will be driven more into the confused Tory leadership than into any opposition party. Only time will tell.
The Great British Public are seriously concerned about the connected issues of air pollution and climate change. The former is killing people in their thousands, the latter threatens the very future of humanity. However we are confused by the tissue of lies and obfuscation that conspiracy theorists and climate change deniers trot out, like they did for Brexit and Covid. Furthermore, the oft-made point that we can look forward to new technologies solving problems, is to take the irresponsible stance of 'technological optimism'. Solving climate change through carbon capture and storage is expensive, unproven at scale and operates on a diminishing returns basis as the amount of carbon dioxide increases. It still falls short of 100% reduction. Mr Sunak somehow forgets to mention this.
A cynic may say, as the PM heads northwards to Scotland boasting of the jobs created, that there is little politically for the Tories to gain north of the border. It is more subtle than that. Developing the Rosebank oil and gas field in the North Sea would create jobs and wealth. North Sea Oil has never been far from arguments for the economic sustainability of an independent Scotland, not a Tory objective. But who gets the wealth? The Conservative party itself has apparently received £3.5m from individuals and entities linked to climate denial, fossil fuels and high-pollution industries last year, according to new analysis. The sensible policy response should be to invest big time in renewable technologies across Britain, utilising the skills of those presently involved in 'dirty industry'!
Not a good look! And, of course the PM is appealing to the politically charged notions of the right of the 'individual' to choose their mode of transport, particularly for the floating voter worried about his or her means of transport.
Yet worse than all this politicising of the carbon emission problem is the temptation not to do very much. To all of us, the means of 'mitigating climate change' should be questioned, for it depends on context. 'Fly on holiday but plant a tree' is a conscience salver and does not stop atmospheric loading of carbon dioxide, methane, nor any other pollutant for that matter. It is the loading of the atmosphere that is key.
And it starts locally. The wider use of bicycles (GBS take note) and shared/public transport with the usual caveats for deliveries, disabled and emergency vehicles is a no-brainer and will make our cities and towns cleaner, safer and more prosperous. We can all then enjoy a better quality of life.
Salisbury's issues
Salisbury councillor Dr Mark McClelland is symptomatic of the irresponsible attitudes towards reversing air pollution and climate change. Since departing Wiltshire County Council (WCC) Cabinet to become Special Adviser to the Chief Secretary to the Treasury (Salisbury MP John Glen), he sent a snide tweet praising the cessation of funding for Low Traffic Neighbourhoods (LTNs) declaring:
"Excellent News. Good to hear the approach we took in Wiltshire being extended across the country".
By this he means the Tory cabal that ran local politics in Salisbury scuppered efforts to reduce cars and increase sustainable transport in the centre of Salisbury. At that time, WCC was supportive. Another change is that Salisbury City Council is no longer Tory controlled. However, Sunak has now ordered a review of established LTNs.
Nationally
LTNs cannot work in the long term for there is the journey to work or to the shops, or even through traffic in the city. Anyone who regularly negotiates the city centre in a motor vehicle will immediately be frustrated by the congestion, naturally made worse at rush hour. Salisbury is not alone. Also, the Uxbridge and South Ruislip by-election has created a toxic political environment. Tory strategists will grasp at the Ultra Low Emissions Zone (ULEZ) straw given their present showing in national opinion polls.
Opposition parties should take note. Labour, Liberal Democrats and the Greens should be prepared to 'tell it as it is' and support drastic action to reduce air pollution and greenhouse gas emissions. None should pussy-foot around these issues of what is happening to our cities, water environments and entire planetary atmosphere. It remains depressing that people of the level of education enjoyed by certain politicians still descend down a populist rabbit hole when in fear of electoral failure. The Great British Public, on aggregate does know better, and it follows the science.
For the Tories, while there is a hoo-ha about transport and climate change mitigation, there is less of a focus on the NHS and care, education, levels of pay, cost of living, new railway lines, tunnels under ancient monuments, corruption in public life and more. This is a helpful distraction into the bargain.
With time on his hands, Rishi Sunak recently took a helicopter between London and Wrexham when it is claimed a train journey should have taken about 10 minutes longer. We all know our Prime Minister is a busy man. For what purpose might he use the ten minutes thus gained? Perhaps he might compose an email explaining the virtues of oil and gas exploration to some Whitehall mandarin.
Oh! And this time it is personal. As I reach for my own asthma inhaler, I am reminded that, along with a few other people, I need to survive on 'Planet Earth'.
Ed: Hadrian Cook is Chairman of Cycling Opportunities Group Salisbury and Citizen of Planet Earth.
---
We want to hear your views. Please send any comments to [email protected]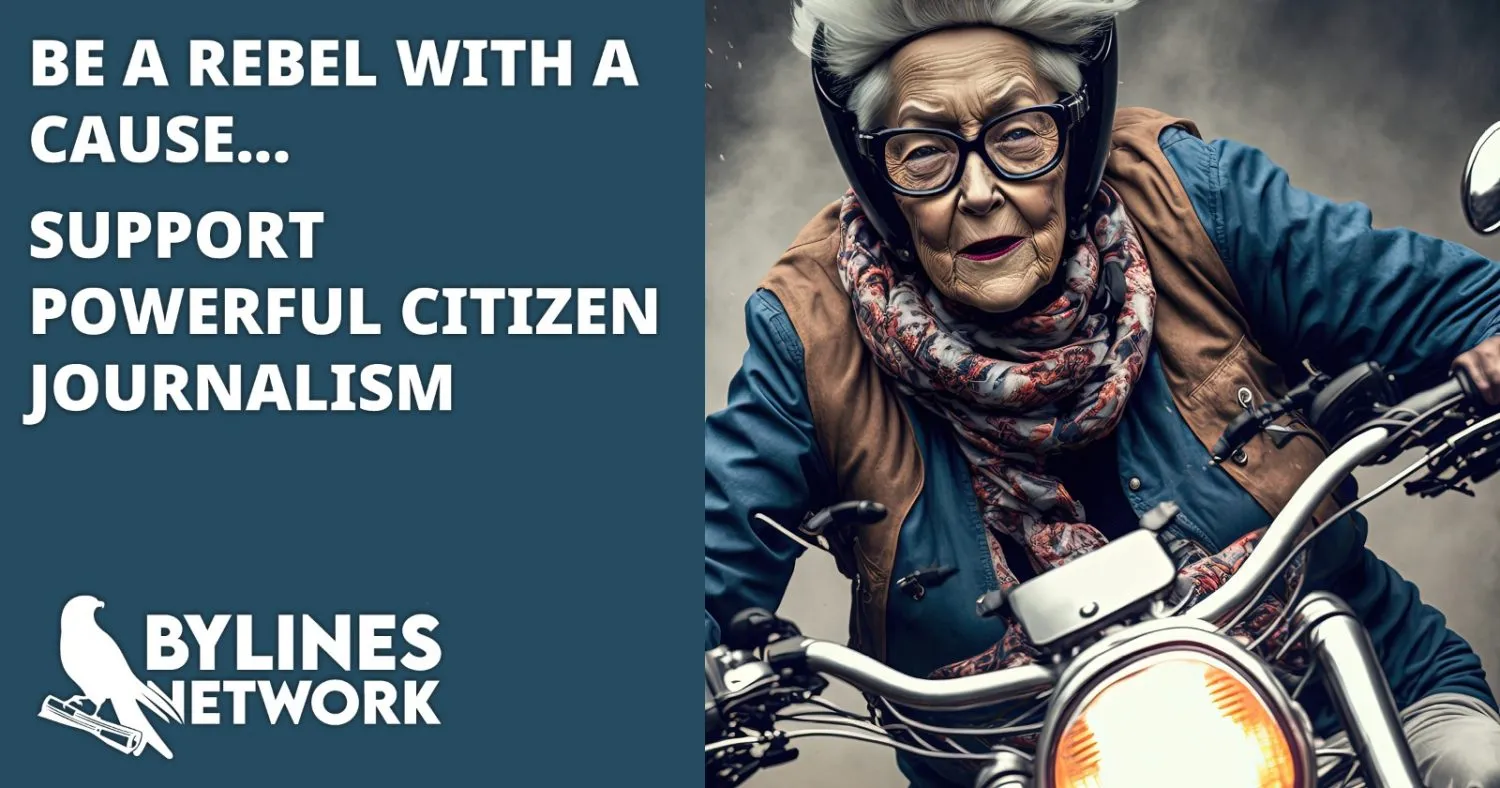 CLICK HERE TO SUPPORT THE BYLINES NETWORK CROWDFUNDER!