The other weekend I went along to Witney in West Oxfordshire for a 'Walk and Talk' on the state of the River Windrush near the town. It was organised by 'Windrush Against Sewage Pollution' (WASP) who have been collecting data on river pollution and lobbying for the water companies and other polluters to clean up their act.
What we were shown was the heavy pollution of the Windrush by Thames Water (TW) from the Witney sewage works at Ducklington, which cannot cope with the effluent from a new housing development.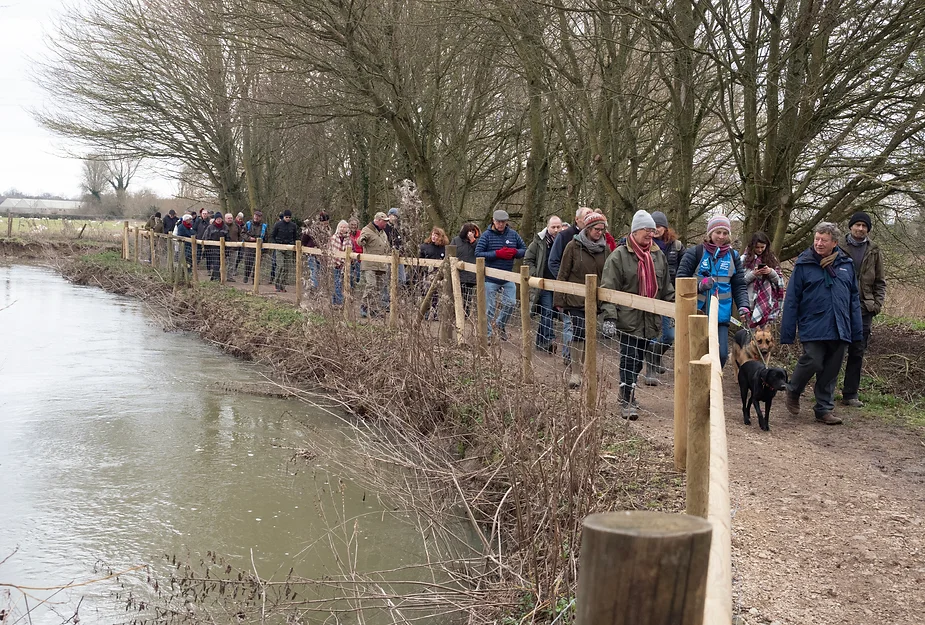 Unfortunately this is not an isolated problem. Despite a budget of around £1.9 billion, the Environment Agency (EA) commits only a tiny fraction to regulating water companies, which are allowed the privilege of operator self-monitoring. Thus the EA is not performing its statutory duty to monitor sewage discharges in England. TW to their credit now provide an interactive map of sewage discharges in their area. WASP have analysed data from firstly the TW area and then from all of England, although three water companies declined to contribute.  The picture this analysis paints is one of persistent illegal discharge of sewage into our rivers.  Even in my home town of Fairford, TW discharged sewage into the River Coln not just for a few hours after heavy rainfall (which they are allowed to do), but for two months because they allowed high groundwater to flow into their leaky sewers.
Communities and media across England are now realising that there is a chronic problem …
Privatisation of the Water Authorities
But how did this come about? In the 1980s Margaret Thatcher's Conservative government had restricted the Regional Water Authorities' ability to borrow money although this was urgently needed to meet new European Union (EU) legislation on water quality. Then in 1989, somewhat cynically, Thatcher said that privatisation was necessary because private companies would be able to borrow the necessary funds.
The new water companies were soon bought up by international investors who saw the money to be made in a de facto monopoly business. Some capital investment was made but it was nothing like what was needed to ensure the quality of our rivers and beaches. In 2021 the Financial Times reported that:
"Spending on crucial infrastructure such as new pipes has fallen by up to a fifth since 1990s".
Regulation?
Under privatisation, regulation was split between the Water Services Regulation Authority (Ofwat) and (for England) Environment Agency (EA).
Ofwat have the duty to:
… protect the interests of consumers … by promoting effective competition
secure that water companies … properly carry out their statutory functions
secure that water companies … finance the proper carrying out of their statutory functions
secure that water supply … and sewerage licensees … carry out their … statutory functions
… secure the long-term resilience of water companies' water supply and wastewater systems …
Their 2021-22 annual report admits "… widespread shortcomings in how water companies were running sewage treatment works". In November 2022 new Chief Executive, David Black, reported that he had written to all wastewater companies to "… set out immediate plans to improve river quality at no extra cost to customers". The response from the water companies to "… reduce sewage discharges by 25% by 2025" is totally inadequate given the poor quality of our rivers.
The Environment Agency (EA) is part of Department for Environment, Food and Rural Affairs (Defra). Its responsibilities in respect of water quality are strangely vague, their 2021 information sheet saying blandly:
"We protect and improve the quality of water … Our work helps to ensure people can enjoy the water environment through angling and navigation."
This does not say how they must carry out these responsibilities.
What has happened over the decades is that the EA has not had the resources or will to monitor or regulate the discharge of sewage. Defra funding for EA's environmental protection services has been more than halved since 2010. Legislation has been introduced to require water companies to monitor water quality upstream and downstream of discharges from their sewage treatment works. This has partially been achieved but all it does is tell us how badly polluted our rivers have become.
In 2002 Defra produced a Storm Overflows Discharge Reduction Plan which set out various measures including:
By 2035, water companies will have: improved all overflows discharging into or near every designated bathing water; and improved 75% of overflows discharging to high priority sites.
By 2050, no storm overflows will be permitted to operate outside of unusually heavy rainfall or to cause any adverse ecological harm.
However will the EA be able to regulate effectively when prosecutions to date have been sporadic?
How can we reclaim our rivers and beaches?
In the 2019 general election campaign John McDonnell famously suggested re-nationalising the water companies, an idea which The Guardian picked up on last year. This may be too drastic. We can however vastly increase the powers of Ofwat and EA to regulate the industry. This may mean replacing these bodies with more effective ones.
We can also lobby our local and national politicians and the shareholders of water companies to require the companies to invest in sewage treatment and sewerage infrastructure so that polluting discharges are reduced.
We must also keep these issues in the public eye and ensure there is constant media coverage both locally and nationally. We must save our rivers and beaches!
West England Bylines would like hear from you about river pollution in our area and what action we can take – please contact [email protected].
CLICK HERE TO SUPPORT THE BYLINES NETWORK CROWDFUNDER!