In our sixth edition of Sewage Watch we present loads more on our sewage crisis. Water companies' announcement of a plan to reduce sewage discharges at the expense of the consumer has been attacked from all quarters. Bolton campaigners set up a petition to take action against polluting water companies. Environment Agency cannot guarantee bathing water quality. There is no safe bathing in our rivers now. Hefty fines are still not deterring Water Companies from dumping sewage. An idyllic Dorset stream is now 'ecologically dead'.
This week: 12-18 May 2023
18 May 2023 – £50bn required to update water infrastructure. That's roughly the same sum the water companies raised through debt since privatisation – which we're paying for – not to invest in infrastructure but to pay dividends to shareholders. Now they want us to pay again. What a load of … Rev Richard Cole: Twitter.
18 May 2023 – Water UK, the body which represents England's nine water and sewage companies, apologised on behalf of the industry for not "acting quickly enough". Campaigners are furious that consumers will foot the bill not the water companies themselves. Feargal Sharkey called it a "half apology" that was another attempt to extract more money from customers. BBC News: Sewage spills: Water bills set to rise to pay for £10bn upgrade.
16 May 2023 – This report says consumers must use less water and water companies should repair leaks. It does NOT say (as Feargal Sharkey DOES) that water companies' regional water plans are not worth the paper they're written on. South West Farmer: Demand for water will outstrip supply say water companies.
16 May 2023 – Bolton saw 2,000 spills from storm overflows in 2022. Bolton councillor says: "We are calling on the government to take action against water companies and to implement strict fines and targets to end this practice". Bolton News: Petition to remove raw sewage from waterways across Bolton.
15 May 2023 – Irony of ironies! The Environment Agency cannot guarantee bathing water quality, as this caveat states: "Our pollution risk forecasts do not include notifications of storm overflow operations as a method to consistently assess the impact of spills to bathing waters has not yet been developed". So what protection do we have? Environment Agency: Bathing water season for 2023 officially begins.
15 May 2023 – The River Lim Action Group has looked at statistics from the Rivers Trust which show that the amount of human waste entering the river has tripled in the last year. In 2020 sewage spilled into the Lim for 376 hours, in 2021 that had risen to 680 hours and throughout 2022 there were 2,200 hours of spillage. Bridport & Lyme Regis News: River Lim 'ecologically dead' after sewage poured into it.
14 May 2023 – Devon and Cornwall District Judge fines South West Water £2.1m which "shows the shareholders and management of South West Water the importance of compliance". Feargal Sharkey tweets: "That is the 161st time @SouthWestWaterhas been fined over the last 10 years, a total of £4,573,634. Fines don't work, something else needs to done". The Moorlander: South West Water fined £2,1m for pollution offences.
12 May 2023 – Feargal Sharkey tweets that: "There are only 2 small stretches of river in England designated as bathing waters. This morning both have 'No swim' advisories posted". The River Wharfe at Ilkley and Wolvercote Mill Stream near Oxford are both polluted. Defra: Bathing Water Quality.
---
Ed: Let us know of any sewage incidents in your area – [email protected]. If it's not in the West England area (Gloucestershire and surrounding counties), we'll share it with our other Bylines Network newspapers.
---
From the archive …
11 May 2023- It sounds as if Water Minister Rebecca Pow is getting tough with fines being paid out of the operating company and into a 'Restoration Fund'. However as Feargal Sharkey comments on Twitter, the fine is less than 3% of Anglia Water's dividend payment. A drop in the ocean of profit for them! East Anglia Bylines: More sewage, higher fines – Anglian Water punished again.
10 May 2023 – After pressure from the Marine Conservation Society and others, the High Court granted a hearing against Defra's August 2022 Storm Overflows Discharge Reduction Plan. They want it extending to cover all coasts, estuaries and marine protected sites. New Civil Engineer: Defra consults on expansion of targets for storm overflow reduction.
8 May 2023 – Because UK water companies clothe themselves in a myriad of corporate structures, only one of which (the operating company) is regulated by Ofwat, they are able to pay out massive dividends, including 'internal dividends' to their parent companies. The £1.4bn represents some £50 per household or over 10% of our annual water bills. Financial Times: UK water company dividends jump to £1.4bn despite criticism over sewage outflows.
8 May 2023 – Surfers Against Sewage are holding a 'Plymouth Paddle Out Protest' on Plymouth Sound on 20 May for surfers, paddleboarders, swimmers, kayakers or simply those who care about the health of our waters. Plymouth Herald: Plymouth protesters 'sick of sewage' leaked into sea to stage paddle out protest.
8 May 2023 – John Anderson of the Burton Trent Partnership says the river has turned brown on several occasions recently with over 2,000 sewage dumps into the Trent in 2021. Staffordshire Live: Outrage over sewage being dumped in the River Trent in Burton.
6 May 2023 – Even in Scotland where water resources are not privatised, there are issues. A "large number of Combined Sewer Overflow (CSOs) outputs in Edinburgh's waterways", such as along the Water of Leith, the River Almond and the Figgate Burn. Edinburgh Reporter: Call for urgent action on "scandalous" discharging of sewage into city's rivers.
5 May 2023 – The Australian Macquarie Group, whose asset management arm acquired a majority holding in UK's Southern Water in August 2021, made a £4bn profit despite allowing Southern Water to discharge raw sewage for more than 3,700 hours at 83 bathing water beaches during an eight day period last autumn. The Guardian: Banking firm that owns Southern Water posts record profits.
3 May 2023 – Paul Hodgkinson, a Liberal Democrat councillor in the Gloucestershire wards of Bourton-on-the-Water and Northleach said: "People raise it [the sewage issue] when we are out campaigning, people are very concerned about the sewage issue. The Cotswolds is famous for its iconic beauty, but it's under threat." Big Issue: 'People are angry': Will sewage sway how people vote in local elections?
2 May 2023 – In 2025, the year after the Olympic Games, Parisians can bathe in the Seine – "La qualité de l'eau est bonne" says Le Parisien. Paris spends €1bn to clean up the Seine so people can go swimming in it while last year alone @thameswater spent 7,000 hours dumping sewage into 31 of London's rivers all of which ends up in the Thames. Feargal Sharkey: What a contrast.
1 May 2023 – The 4 May local elections are the first since the Guardian revealed the hidden scandal of the scale of raw sewage pollution in rivers, pushing the issue into the mainstream political debate. WASP founder Ash Smith says "The public were kept in the dark by government and the captured regulators but as campaigners dragged the dirty secrets out into the open, public awareness and disgust rapidly followed". The Guardian – River pollution becomes key issue in English local elections.
01 May 2023 – From the cancellation of regattas to health advisories against swimming due to sewage dumps, the once pristine rivers of Oxford are now increasingly unsafe. Castle Mill Stream continues to display dangerous levels of bacteria – despite being the only official bathing spot on the Thames. Oxford Wild Swimming has "experienced a massive number of cancellations due to unsafe conditions in the river". Cherwell (Oxford's oldest student newspaper): "Sewage scum" and "nasty infections": students plagued by deteriorating river quality.
30 April 2023 – The Daily Express 'Green Britain Needs You' campaign focusses on dog walkers in Hampshire complaining about the polluted River Itchen. Quoting LibDems leader Ed Davey: sewage will be on many people's minds on May 4 when they "protest" against the Government's "lack of action". Daily Express: Sewage in UK rivers surges to top of voters' agenda.
30 April 2023 – An open letter to Conservative MPs called for more powers for the Environment Agency. Not one English river is classed as being in a healthy condition. Barnet Post: Labour candidate calls for funding to tackle 'sewage scandal'.
28 April 2023 – The fines are starting to bite. Anglian Water pleaded guilty to discharging 7.5m litres of sewage at Jaywick Water Recycling Centre in Essex between June and July 2018 and were fined over £2.6m. ITV News: Anglian Water fined £2.6m for discharging 7.5m litres of sewage into North Sea at Jaywick. Also 3 May 2023 – New Civil Engineer: Anglian Water fined £2.7M over sewage spill into the North Sea.
28 April 2023 – At the UK's annual River Restoration Conference in Birmingham, the recurring theme was that officials and the general public are too focused on sewage and not enough on the fact that nearly all of the UK's rivers are in an unnatural state. Just 14 per cent of England's rivers achieve good ecological status. New Scientist: Why saving Britain's rivers means more than cleaning up sewage.
27 April 2023 – Windrush Against Sewage Pollution (WASP) reports on the failure of Labour's bill to reduce sewage discharges. Thames Water routinely dumps sewage illegally and has done for years as it is cheaper than fixing the problems that cause the pollution – cheaper because the Environment Agency takes no effective deterrent action. Also WASP's analysis proves that Thames Water shareholders DID take dividends! WASP – What just happened?
27 April 2023 – South West Water have been fined a record £2.1 million a string of environmental offences between in Devon and Cornwall between 2016 and 2020 that are enough to make your stomach turn. Big Issue – Raw sewage, dead fish and E.coli: Record £2.1m fine for water pollution in Devon and Cornwall.
26 April 2023 – Gloucestershire business journal reports on Labour and other parties demanding a stop to dumping sewage in Gloucester and the River Chelt. Punchline – Labour kicks up a stink over Gloucester sewage scandal
25 April 2023 – Labour's private member's bill to set faster targets for reducing sewage dischargeswas all set to be made law until the government used parliamentary procedure to block the debating of this Opposition Day motion. In the morning it looks fine: Policy Mogul – Storm overflow target to be enshrined in law. But by evening the Tories had blocked it: East Anglia Bylines – Tories vote to continue sewage scandal.
25 April 2023 – The professional magazine for civil engineers reports that Anglian Water have started the tender process for the provision of £9 million worth of sewer monitoring sensors. Better late than never? New Civil Engineer – Anglian Water sets out sewer monitoring sensor plan to cut pollution incidents
24 April 2023 – Accidental sewage discharges do happen. In South Benfleet a valve malfunction spilled sewage onto local roads. Essex Live – Anglian Water sewage plant site spills waste on South Benfleet road after system valve fails
24 April 2023 – A report that getting homeowners to fit water butts could 'fix' our sewage problem is very misleading. There is physically no space on most properties to install water butts. Anyway most gardeners like to keep their water butts full so there is no retention of rain water. Finally most prolonged sewage discharges are due to high groundwater not rainstorms. iNews – How the UK's sewage problem could be fixed with simple garden tools being tested on the Isle of Wight
24 April 2023 – Sewage pollution is now the main issue in the upcoming local elections. The Green Party wants water re-nationalised. The LibDems are calling for a ban on sewage at blue flag beaches. BBC – Local elections 2023: How sewage topped the political agenda
22 April 2023 – Labour plan ads like "Do you think it's right to allow raw sewage to be dumped into our rivers and beaches 800 times a day? Rishi Sunak does." if Tory MPs block Jim McMahon's bill on monitoring sewage [which they did]. Daily Mirror – Labour planning local ad blitz if Tory MPs block sewage dumping crackdown plan
22 April 2023 – Feargal Sharkey tweets that – South West Water are over-abstracting more than 100m litres from the River Avon every day
22 April 2023 – In the heart of the Cotswolds, members of the Coln Residents Against Pollution in Bibury were joined by other passionate protestors from neighbouring towns and villages. ITV News – Bibury residents protest 'shameful' sewage pollution of River Coln.
21 April 2023 – In the North West United Utilities reduction in storm overflows is welcome but they are still the worst performing water company. North West Bylines – United Utilities sewage discharges are down – but what's really going on?
21 April 2023 – In Manchester a plan to convert a field into a woodland is abandoned due soil contamination from United Utilities discharging sewage onto the field 135 times in the last year. The Guardian – Sewage-soaked field stops creation of new woodland in Greater Manchester.
20 April 2023 Sussex World – Southern Water explains 250 hour sewage release in Felpham
19 April 2023 World Economic Forum – UK waters are too polluted to swim in – but European countries offer answers
18 April 2023 Cheshire Live – Cyclist's 'sewage' fears after 'abhorrent' sighting on River Dee
18 April 2023 The Telegraph – Water companies accused of sewage discharge cover-up by failing to fix faulty monitors
18 April 2023 This is Money – The big stink: Water firms making 'a mockery' of efforts to link bosses' bonuses to pollution targets
17 April 2023 Big Issue North – Top of the Poops
17 April 2023 New Civil Engineer – England's adoption of Schedule 3 is a watershed moment
17 April 2023 Chartered Institution of Water and Environmental Management (CIWEM) – Combined sewer overflows – it's time we cut the crap
17 April 2023 Loughborough University – UK waters are too polluted to swim in – but European countries offer answers
17 April 2023 Leicester Mercury – Questions raised over amount of raw sewage being emptied into Leicestershire waters
15 April 2023 Gloucestershire Live – Severn Trent blasted for 'broken promises' and 'continuous sewage spills' in Gloucestershire
14 April 2023 Sussex World – Pop star Feargal Sharkey shares Eastbourne water quality concerns.
15 April 2023 Westbury People's Gallery – The Shit Song Video
13 April 2023 Reading Chronicle – Reading: Charity furious at sewage dumping in Foudry Brook
13 April 2023 The Express – British seaside hit with sewage – full list of affected holiday hotspots
13 April 2023 The Guardian – More than 7,500 days' worth of raw sewage dumped in ministers' constituencies
12 April 2023 East Anglia Bylines – Victory and disappointment for River Deben campaigners
12 April 2023 The Times – Sewage dumped on shellfish without assessment, government admits
8 April 2023 The Sun – THAT STINKS Sewage pumped into waters at Britain's popular seaside towns a stomach-churning 125,000 hours last year
7 April 2023 The Telegraph – Cotswolds has become sewage 'dumping ground'.
4 April 2023 Mail Online – Is your favourite beach one of England's sewage hotspots?
3 April 2023 Top of the Pops – 375,000 "sewage spills" into waterways in 2022, lasting 2,291,055 hours
3 April 2023 Bylines Cymru – Welsh rivers see some of the worst sewage dumping in the UK
12 March 2023   Windrush Against Sewage Pollution (WASP) – Walk and Talk in Witney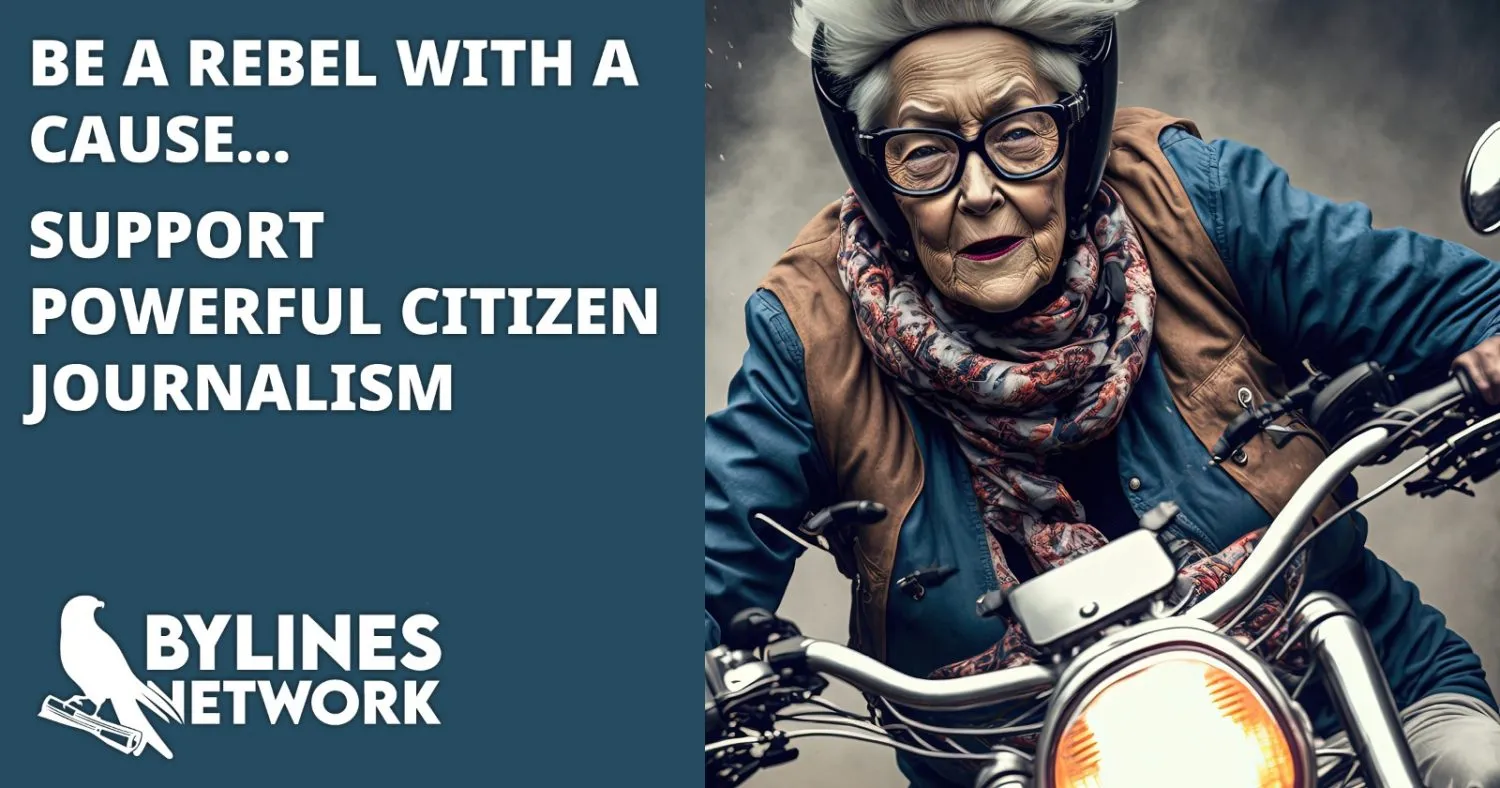 CLICK HERE TO SUPPORT THE BYLINES NETWORK CROWDFUNDER!