Part 3: What a housing association can achieve.
There is an ever- deepening housing crisis where demand outstrips the supply of decent and affordable homes. There has been  a sharp rise in mortgage rates over the past two years, following 14 consecutive interest rate increases by the Bank of England, and this is putting many more home buyers into arrears. Against this background we continue our 3 part series on housing in the UK today. In the first part, Barbara Morrison examined how we got here. In the second part she discussed the problems for millions of people unable to buy a home and find themselves scrambling for a roof over their heads in the private rental sector. In this third and final part John Wade, Director of Strategy at Bromford Housing, discusses changes in the relationships between customers and the housing association which seek to empower people in communities.
Crisis? What crisis?
I started out as an idealistic philosophy graduate who wanted to make the world just a little bit better. I started working for small housing charities in Stoke. I spent time working with people who'd experienced homelessness – often after leaving care or prison or after escaping domestic violence. I moved to Rethink Mental Illness developing supported housing schemes across Staffordshire in partnership with various Housing Associations. One of them was Bromford. In 2000 I moved to Bromford, initially to lead their growing provision of mental health schemes. Then I was part of the team that created and then grew Bromford Support, providing housing related support to around 5,000 people across central England, until austerity and cuts in funding saw local authorities axe services left right and centre.
My mum lives in a small town in Essex. There seems to be a lot of house building going on around the outskirts of the town. Mostly large houses with garages, like the image above. Every time I visit her, she asks why they are building so many houses. Every time I reply that we're not… though we should be. That there is an affordable housing crisis. I showed her this graph: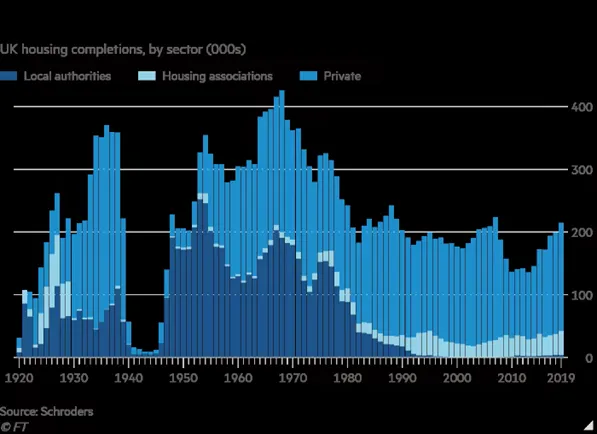 We need to build more, affordable, homes.
We're building fewer homes now than for much of the post war period.  And many of those we are building are not the sort society actually needs. Only 8,000 homes were built for social rent in 2022 (we built 40,000 as recently as 2010). And in the same year around 25,000 were lost through the right to buy. Big houses with garages are not what we need.
So, it's more important than ever that housing associations build more, affordable, homes. Bromford plans to build 1,300 this year – with around 300 of those in Gloucestershire.
There is a tension though. We used to get all the cost of building new homes as grant from the government. Now we have to use our own surpluses and borrow millions of pounds to top up the much-reduced levels of government investment. And every pound we spend on new homes is a pound less to invest in our existing homes and services for customers.
Trying to get this balance right is not simple and we don't always manage to. There have been some grim stories recently of properties in a poor state of repair, of black mould on walls, of leaking ceilings, and of bodies found in flats months after the person died. Social housing has not been covered in glory. All this, plus the terrible events at Grenfell, has led the Government to step up its regulation of the sector. A bigger role for customers to scrutinise and shape services and stronger inspection teams are just the start.
So, what has been Bromford's response to all this?
We launched neighbourhood coaching (NC) back in 2016 when almost all other housing associations were cutting services in the wake of austerity. The NC is the first point of call for queries relating to a customer's home, tenancy and community. Being at the heart of the community, neighbourhood coaches can connect customers with local services, community groups, local clubs, voluntary organisations and each other to help build thriving neighbourhoods and resilient individuals. Now after the cost-of-living-crisis, Covid, Grenfell etc, a number of others are following suit.
We want to get to know our customers…in the good times and not just when things go wrong. For their strengths and ambitions and not just when they haven't paid their rent or have disturbed a neighbour. We also want to get to know the range of other community assets and to help connect customers with each other and with some of those community assets.
We're not interested in developing a whole series of projects or specialist services designed to address a particular deficit – loneliness, unemployment, debt, etc. As Maff Potts and the Camerodos say – 'the answer to our problems is each other'. There are loads of great people and great things happening on any street, in any neighbourhood. Our NCs are one of those things but the skills, talents and kindness of our customers is another. Add to that the local groups, clubs, services, volunteers, faith groups etc and there's a rich network of help, support and friendship out there waiting to be connected.
So we start with what's strong in the communities where our customers live and help make them stronger.
A big part of what any Housing Association does is repair existing homes and replace the big things like windows, roofs, kitchens and boilers when they wear out. It's this stuff that really affects customers the most and generates the most satisfaction but also the most complaints. We know we don't always get it right. In general that's despite colleagues who want to do a great job. Often it's because different parts of Bromford don't talk to each other enough or we have decision making processes that are a bit too complicated and slow.
Sense of place
We're thinking a lot more about the places where our customers live. We've been working with the Co-op to map where our homes are, how old they are, how many repairs are reported, how many complaints, etc. But we are also identify other things like the proximity to schools, GP surgeries, community centres, etc. In the past we've had a one-size-fits-all approach to the way we operate. We want to organise around real places and bring all the teams and colleagues who work with customers and stakeholders in the same place, to work more closely together.
Homes to meet needs
We also want to understand more about whether our existing customers' homes are still right for them. We think we have a lot of people now living in overcrowded homes – where it's more likely that they will experience problems like condensation, damp and mould. But we also think there are quite a lot of larger family homes occupied by a – possibly older – couple or single person, who might want to move to somewhere smaller and more manageable. Perhaps all on one floor. If only the right sort of homes existed.
We plan to start finding out more about whether existing homes are working for our current customers and to use this information to help inform what new homes we build and where.
In some places we have a lot of older homes, and some local infrastructure – shops, schools, roads – may also not be providing what people need. We want to work more strategically with our local authority stakeholders but also with community groups, councillors and customers to help enable real regeneration of some of these places to make them places that work for local people.
A sea change in social housing
We started experimenting with a range of new services and began questioning the whole notion of deficit-based support. Working with people involved in Asset Based Community Development (ABCD) there has been a significant shift in the way that the relationship between our customers and ourselves works. I remember a pivotal conversation with Maff Potts in around 2013 when we both bemoaned the way housing providers cast the people we worked with as 'broken' and needing 'fixing'. Out of this the Neighbourhood Coach system was born and Maff went on to establish the fabulous Camerados.
As I approach the end of my career, I am optimistic about the direction Bromford is going. Striving to provide homes that people can be proud of and where they can realise their aspirations without us getting in the way. We're by no means perfect but I hope we are honest enough to admit that and know that we have a long way to go to become the sort of organisation we aspire to be.
Concludes
(The Views expressed here are those of the author)
Comments please to: [email protected]