TopGuard's French correspondent, Sylvie de Beauvoire, continues to quiz new UK Prime Minister Rish Soontech about Liberty, Equality and Fraternity. If you haven't read Part One yet here it is.
Recent History
Sylvie de Beauvoire (SB): Now, to your time sitting in Cabinet next to the last Prime Minister but one. You supported him and voted with him all through the Brexit, Covid, post Brexit and post Covid periods, when unconstitutional, corrupt, incompetent, illegal, rude, immoral behaviour was going on all around you, which you must have known about, and yet you said nothing at the time, at least not in public, and you have said nothing since.
This was all very damaging to public confidence in the Government, to the economy, internationally, to our democracy, and to public morale. Well, you finally resigned in early summer 2022, far too late to prevent or repair all or any of that damage, wouldn't you agree? You put your own position and future ahead of your obligations to the public at large, who elected you, who you are supposed to represent, and who pay for you, didn't you?
Rish Soonak (RS): Sylvie, you put it very well, and everything you say is correct. I am grateful to you for spelling out the truth so plainly, though I have known it for a long time. I have no excuse. I should have been stronger, I should have spoken out, and I should have resigned much sooner. I did put my own interests first. I cannot change those facts. I must strive to do much better in future, and I have more experience now and have learnt a lot, which I should have known before. But thank you for clarifying my obvious lack of integrity.
SB: OK. I appreciate your honesty and humility now, which I haven't noticed before. Better late than never I suppose. I know about Cabinet unity and the Party whipping system, but there are times when these requirements need to be set aside for the sake of the public good. But Tories always put their own interests first don't they? It is probably why they are referred to by some people as scum. I suspect that isn't going to change.
But now to some more current politics. First, your cabinet appointments. These included Gavin Williams, Suella Braverman and Dominic Raab, all of whom had well-known bad previous records where they had breached the Ministerial Code. Why did you appoint them?
RS: An excellent question. And my answer is that I wish I hadn't. They all caused me grief and loss of political capital. It was pure weakness on my part, because I needed to try and hold the Party and Government together during the transmission to a new leader. It was Party before integrity again, so I'm really sorry about that. But I won't make that sort of mistake again.
SB: Good. But it took months of agony to get rid of Raab, and Braverman is still in post, so to implement your promise you have immediate work to do.
Brexit
SB: Now to the big one. Brexit. You have always supported it and voted for it, yet the calamitous process and final outcome is now clear to everyone, even Brexiters, even though they won't admit it. Most experts in 2016 had warned against it, and their predictions have now come fully to pass. It has made almost everyone poorer. It has reduced incoming UK investments and the UK's influence in Europe and the world. It has led to manufacturing firms moving away from the UK, the collapse of many smaller firms, the City of London being undermined, the collapse in the value of the pound against the dollar by 25% since 2015 making imports more expensive, and regional development aid to fall.
It has taken the UK out of so many valuable European initiatives such as Horizon, Copernicus, Medical Research, Scientific Research, Euratom, European Space Agency, and Erasmus. There have been no Brexit dividends to speak of, no $350 million a week for the NHS, the Good Friday Agreement has been put at risk and Northern Ireland has been left without a functioning government.
Your Party and Government couldn't have engineered a more catastrophic disaster, you went ahead with a hard Brexit despite all advice to the contrary, and yet you still support it. That is completely beyond comprehension.
RS: All true. I'm utterly ashamed of myself, and ashamed of my Party, who put Party electoral success above our responsibility as the government to the citizens of this country. We lied about Brexit and the EU, we lied about the UK's prospects outside the EU, we lied about Northern Ireland, we lied about immigration, and once we had started lying and gained the electoral advantage with our 2017 and 2019 general election wins, we couldn't stop lying without losing face and without losing that advantage. We are still lying about it, hoping to hang on to that advantage. I voted for Brexit because my Party expected that of me, and for my own advancement, though I always believed it was a flawed policy. I bitterly regret doing all that now.
SB: That's an utterly astonishing admission. It's almost an admission of treason, certainly of disloyalty and betrayal of trust to your fellow citizens. If there was a proper constitutional court in the UK, your Government would have been hauled up before it. Of course it's all too late now. The milk is spilt. But your conversion will create a firestorm when this news hits the headlines tomorrow. Perhaps we might see you crossing the floor of the House and joining another Party soon?
RS: I'm not sure I can go that far, though sometimes I'd like to.
SB: You might have the whip withdrawn from you, for what will be seen as massive Party disloyalty by some. That would be a first in UK political history.
You are now trying to put in place some minor damage limitation, such as your Windsor Agreement, your partial row-back of the REUL Bill, and your initiative about passports, and these are welcome, but they are very minor compared with what is needed. Does this mean that you'd like to do more, but are restrained by the small band of zealots in your Party that seem to hold you under their thumb? If that is the case, what is the point of being Prime Minister if you're constrained to that extent?
RS: Sylvie, you have absolutely put your finger on it, I am more or less totally snookered in the way you describe, I would like to do more, but the Government is basically held to ransom by the band of zealots as you put it. It is a disgrace, it is totally undemocratic, the Party has allowed this to happen, and we deserve to be hammered at the election as a result and I hope we are.
I do have options. I could attempt to pass the legislation that I want, but we might lose the vote in the House, there would be calls for a general election, there would be calls for my resignation, and perhaps that would be the best thing. But I was selected as leader to steady the ship, not rock the boat, so I can't do that. I'd like to though.
SB: We live in hope of your further conversion.
Inequality and Poverty
SB: Now, turning to levels of inequality and poverty, these have worsened considerably in the UK in recent years and decades, which now has one of the worst records in Europe. The super-rich, and the wealthy, people like yourself, get richer, because they own assets or have high incomes and can afford the best advisers to maximise their value and protect their wealth. And the poorest get relatively poorer because their wages are held down by your Government's restrictions on union power, encouragement of the gig economy, unwillingness to manage or limit corporate power, reductions in public services which less well-off people rely on, and your Government's unwillingness to improve benefits or make other beneficial changes to benefit poorer people. High inflation is making inequality worse, and your only tool to tackle it is interest rate rises which is itself inflationary, while you blame workers for causing it. Levelling Up was a slogan, all talk and no meaningful action, as admitted by some of your colleagues.
This is a disastrous and disgraceful way for a government to behave isn't it?
RS: Reducing inequality, relieving poverty or protecting the weak has never been a priority for Conservative administrations, in fact the reverse is probably true. We protect wealth and high earners and reduce their taxes when we can. We cut benefits and reduce help for the poor and weak when we can. That's horrible, I agree, but it's what we do. That's Conservative philosophy and tactics, though rarely admitted as such. I can only change that at the margin, but I will try from now on.
SB: We have more poverty, child poverty, and old person poverty in the widest sense now than for many years, probably more than most EU countries, and improvements in longevity have stopped and gone into reverse. Tories have resisted improving social care, resisted free school meals for children, resisted making significant improvement in childcare, made disability payments more difficult to qualify for, tightened rules against renters, reduced social and affordable housing, allowed energy and mortgage bills to balloon, removed funding and powers from regulators, allowed train and bus services to worsen, and cut funding for education and local government.
It is a really dreadful record isn't it. Shameful. Tories don't believe in a fair society, with opportunities for all, do they Rish, and neither do you?
RS: No, they don't, and up to now, I haven't, although I and they try to pretend that we do. It is a record to be totally ashamed of, especially when compared to progress in many other developed European countries. And yet we Tories keep winning elections, don't we?
Why don't we pause and refresh our tea cups?
SB: Good idea.
Transcript paused …
Ed: End of Part Two. Be sure to read Part Three out shortly.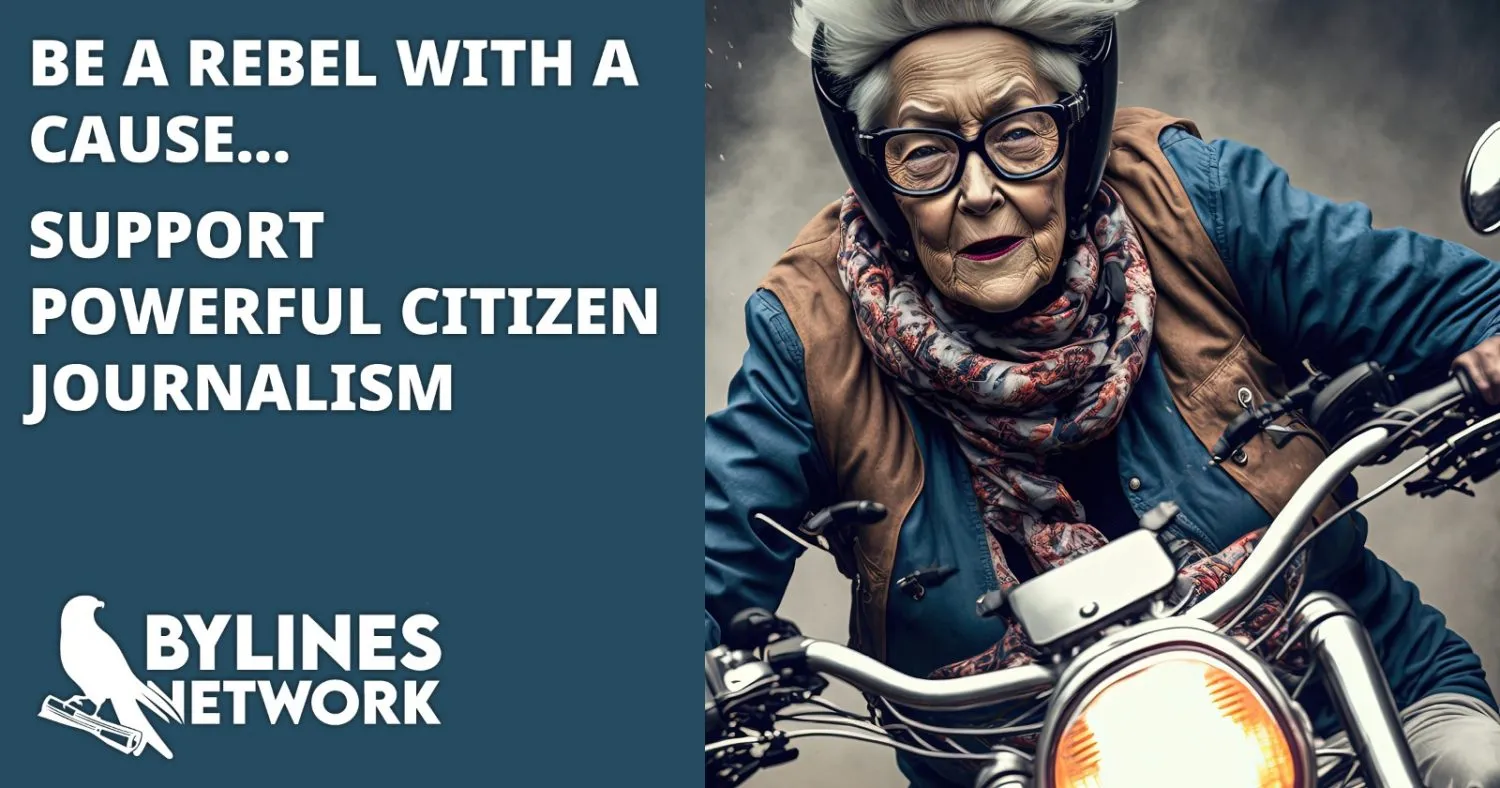 CLICK HERE TO SUPPORT THE BYLINES NETWORK CROWDFUNDER!