So what did I expect from Malcolm and his Westbury People's Gallery? Of course I'd corresponded with him and seen the gallery's website and Facebook page, but nothing prepared me for the full-on immersion in such a wide range of artistic and political statements.
We had collaborated on articles like a mural for Ukraine and Why we are talking Sewage. We had worked on videos including Land of Hopeless Tories, Pin the Turd on the Tory and The Shit Song.
Malcolm constructed a display board on his fence which could take a dozen or more A3 pages of West England Bylines articles for passers-by to read. This was trashed once but rebuilt immediately. The main photo above shows Malcolm and the display board with a freshly pasted 'Sewage Watch' article.
A warm welcome at Westbury People's Gallery
Malcolm made me very welcome despite being in the middle of preparing for a special event that week – 'Not the Royal Academy 2023'. He had made this excellent video to take online visitors through the gallery. But he gave me my own tour before we sat down and to talk about life, Brexit and the world, over a cup of tea.
Where can I start? Every art form is on display – painting, collages, sculptures, installations and the written word (Poetry Corner / West England Bylines). One constraint for this gallery is that exhibits have to be weather-proof or protected in some way from wind, rain and sun. But this encourages artists to invent new techniques, materials and finishes.
The entrance takes you through "A Shrine of Material Apotheosis", a recycling installation (coke bottles, Schweppes cans etc) showing what we discard. Then there are paintings on metal and drawings on paper.
Then you're confronted by this massive mountain of "GREED" topped by Boris, alongside Rishi's Cayman Islands Tax Haven with Boris surfing the wall of the house!
And underneath Rishi there's a fridge with Boris hiding in it. Opposite that is Bojo the Clown learning to drive the country.
Round the corner there's a sofa in a 'sort of gazebo' where you can admire some excellent paintings. Then as if you were on Brighton Pier there's 'Brexit Island' where you can pose as Liz Truss the donkey or Rishi Sunak the strongman.
We go round to the rear of the house (it's a suburban semi) and see Melissa, an angle-grinder in hand, fashioning a more-than-life-size dung beetle from a re-purposed six-legged coffee table. The dung beetle is the Egyptian Scarab, god of the morning sun and will be pushing an exercise ball size dung ball! Melissa is an expert at outdoor installation and has made many of the frames used to house exhibits.
Support for the gallery
Then we sit in the 'Brexit Tears Garden' around a pond in the shape of Britain, with a Boris 'Mannekin Pis' urinating on Scotland, discussing why Britain has come to such a parlous state. All about us are paintings and drawings and an old church pew with panels of various leaders of Britain. I asked Malcolm what his neighbours thought about having a gallery in their street and he said they were overwhelmingly supportive, which was heartening to hear.
Then we decide that the West England Bylines display board could do with an update and Malcolm prints out six pages of the latest 'Sewage Watch' on A3 paper and we paste it onto the board:
What a day it was for me. Thank you Malcolm for a wonderful vernissage!
I have only described a fraction of what is on display. So I can only encourage our readers (and writers) to pay the gallery a visit yourselves. There's so much to experience. More information can be found on Facebook or at the Westbury People's Gallery website.
Ed: All images are by the author.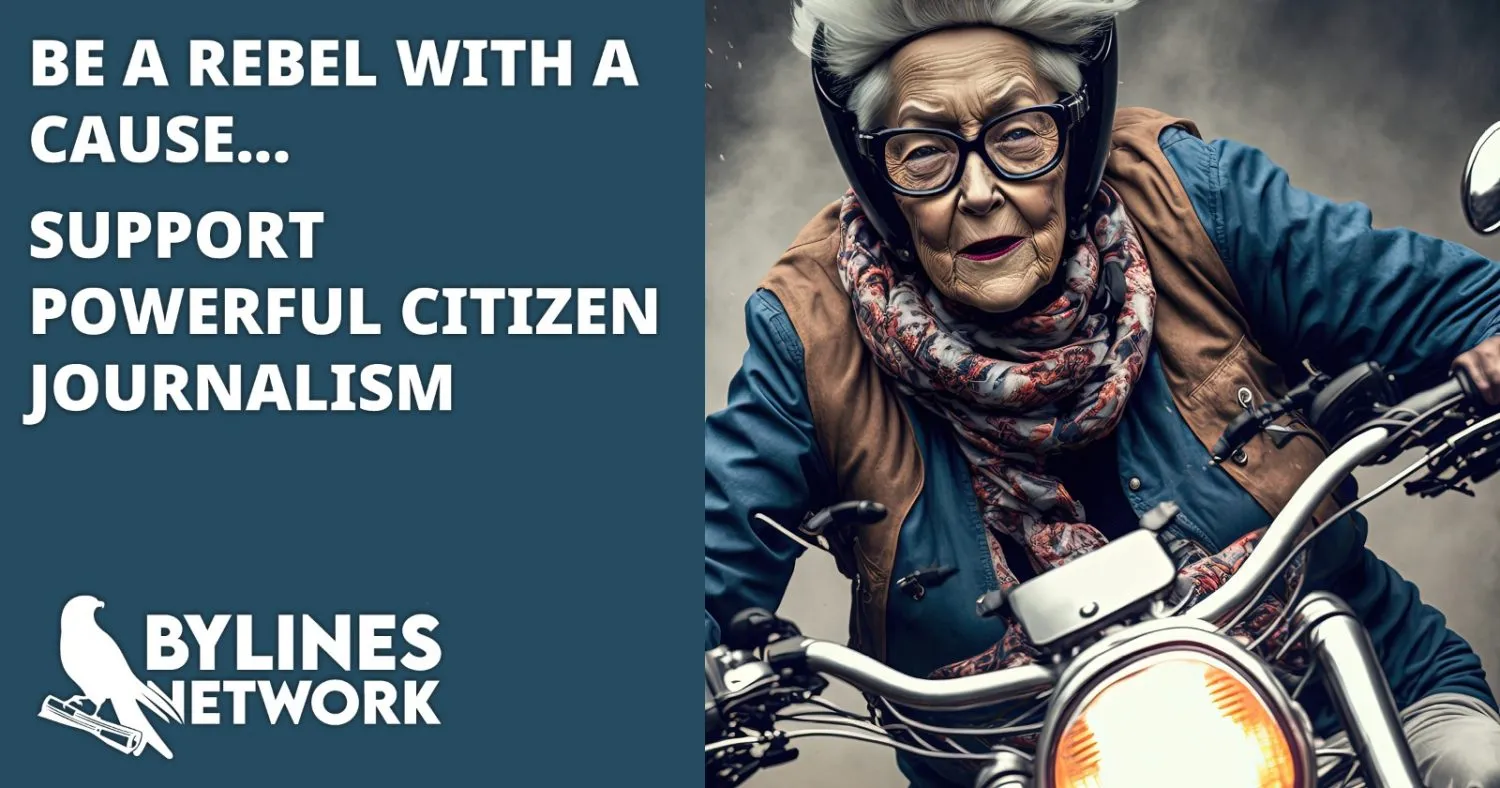 CLICK HERE TO SUPPORT THE BYLINES NETWORK CROWDFUNDER!